By Vanessa Fiske, Director of Marketing
Connection is at the core of what we seek out as human beings. For me, the opening airport scene in Richard Curtis' Love Actually instantly evokes that sense of joy in reuniting with those you love. Maybe I fell in love with the movie because it came out during a time when I was regularly flying in and out of London's Heathrow Airport... and sometimes to meet up with a special someone.
However, I'm not alone in my love for this polarizing romantic comedy, as it was one of the most popular movies of 2003.
Fifteen years later, this movie is still on my "watch every year" list. Because it has been recategorized as a holiday classic, I usually find myself watching it in December. It's ten different intertwining plots with each exploring different kinds of connections and the idea that "love actually is all around."
Often, movies about romance take you only down the fantasy path, but this one has some gritty, hard-to-watch moments as well as fanciful "march down the streets of Portugal to propose" moments.
Part of the strength of the movie lies in the supporting cast. Hugh Grant as the prime minister (which seems more believable today) is awesome, but Natalie (Martine McCutcheon) brings such everyday charm to her role that you can't help but root for her.
Giving Liam Neeson a much needed perk to his recent widowhood is Sam (Thomas Brodie-Sangster). His airport antics at the end would most likely result in a lengthy jail sentence today, but you can't help but smile when he gets the girl.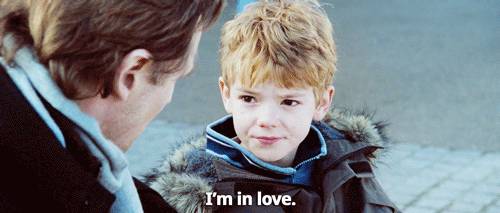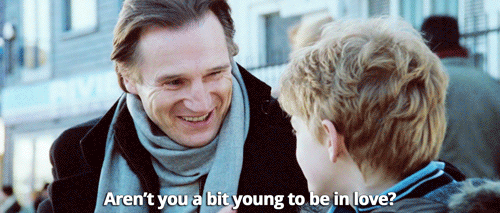 Colin Firth as the cheated on husband finds his sunshine in the smile of Aurelia (Lucia Moniz).
The beloved Alan Rickman took time out from his Professor Snape duties to put himself in the predicament that every married woman dreads... indulging the advances of the predatory work wife, Mia (Heike Makatsch), looking to make her move at the holiday party.
Not every storyline had a happy ending. Laura Linney had a single moment of happiness in between phone rings. I cringe any time I hear a phone ring after I watch it, especially with those grating early cell phone ringtones.
If you blink, you'll miss January Jones, pre-Mad Men, with the optimistic Colin who believes "American girls would really dig me with my cute British accent."
The movie definitely has its haters. "Drivel." "I'm gobsmacked so many really good actors agreed to be in this miserable excuse for entertainment." Many feel that without the language and nudity, it would be better.
But, Love Actually is a movie that left most fans wanting more. A theatrical sequel was never created, but last year, on Red Nose Day, Richard Curtis released a short follow-up with most of the original cast. And, when the Prime Minister was asked if he was still as optimistic as he was fifteen years ago, he answered:
Love actually is all around (and streaming on Netflix right now) if you want to rewatch it or watch it for the first time.